A delegation of our Club, headed by Vice-President Mr. Vassilis Constantinou and the participation of "Thiela Aegiou" soccer School of Panathinaikos and "Panathas", the Club's mascot has visited Sageika, in the district of Achaia, in order to congratulate the teachers on their initiative and to offer gifts which will adorn the Sports Museum of the local High school.
Panathinaikos offered the banner of the team, a shirt signed by the players, the encyclopedia "100 years Panathinaikos", balls, scarves and many players' autographs.
The delegation was welcomed by local authorities, students and teachers, the team of Ethnikos Sageikon and local dancers. The event was completed by a great Panathinaikos fiesta and left excellent impressions about the love Achaia has toward our Club. The presence of many veteran players of Panachaiki – led by Mr. Vassilis Stravopodis- who warmly participated in this event granting all their hospitality, was well noted.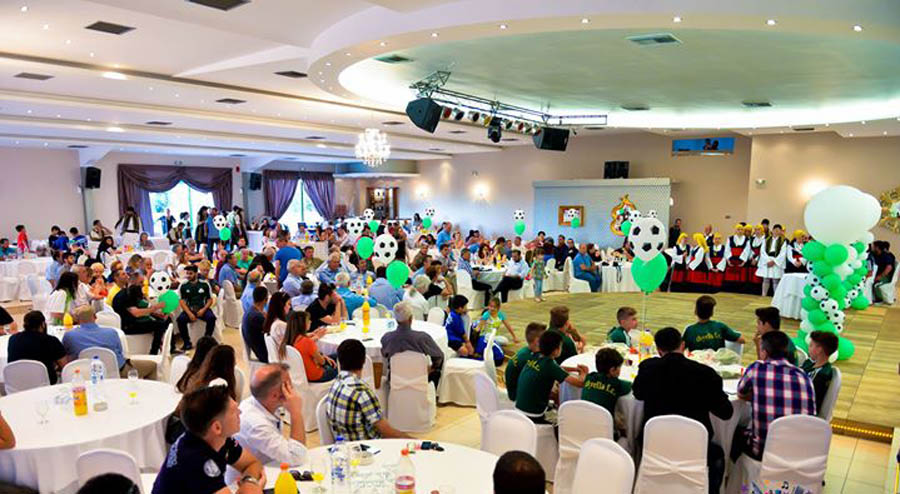 In this event, celebrated in honor of Panathinaikos, the team's anthem was heard, while the most glorious moments of the "Green" history were projected on a video wall. The Club received honoring plaques by the School Directors, the Cultural Association, the Club of Ethnikos Sageikon and a commemorative shirt from the local High school.
The reports made by the Directorate for Secondary Education have shown how important Panathinaikos initiatives are for social issues: "We thank this historical Club for its support to the public school, as such actions help the coil and closeness among pupils". The chairman of Panachaiki veteran players association stated: "Panathinaikos by this action becomes an example to be followed by other Clubs as well". The Mayor of Sageika said: "We are experiencing unprecedented nice moments in our region", and finally Mr. B. Pettas, inspirer of the idea mentioned: "It is an honor for all of us to welcome Panathinaikos". Many statements were delivered by several representatives of the school community, EPS Achaias and Liverpool Fans Association.
Concluding, Mr. V. Constantinou on behalf of Panathinaikos' delegation, wished a lot of strength in order to complete the project of the Sports Museum, mentioning always the strong memories that will be coming out from this special meeting.