Panathinaikos together with Puma, the sponsor of the sporting equipment, presented this afternoon in Koropi the new shirts of the team.
This season Panathinaikos enters in its second year of cooperation with Puma, the sponsor of our team´s sportswear. Puma has exclusively created this equipment for our "Shamrock" team and will be worn by thousands of fans that will become an integral part of this season's course. A course which has always high targets.
There are many changes in this year's shirts. The most visible of them appears on the first shirt, going back to the horizontal stripes, something that happens for the second time in our Club's history. Stripes in green and white, the two colors indissolubly linked with our Panathinaikos, the most popular Greek club worldwide, having achieved top international distinctions.
The shirt to be worn in our home games – with horizontal green and white stripes – and the one to be used in the away games – with a blue line – have both a big green shamrock on the side of the heart. The third shirt, where the white color prevails, has the peculiarity of the flaps with a button on the collar. This is a detail on the design that gives style and elegance. This year a 3D shamrock has been used, giving a special beauty to these shirts.
The new shirts are made using ACTV technology, which thanks to special films placed on some selected points, allow the players to move with greater ease, activating their main muscular groups.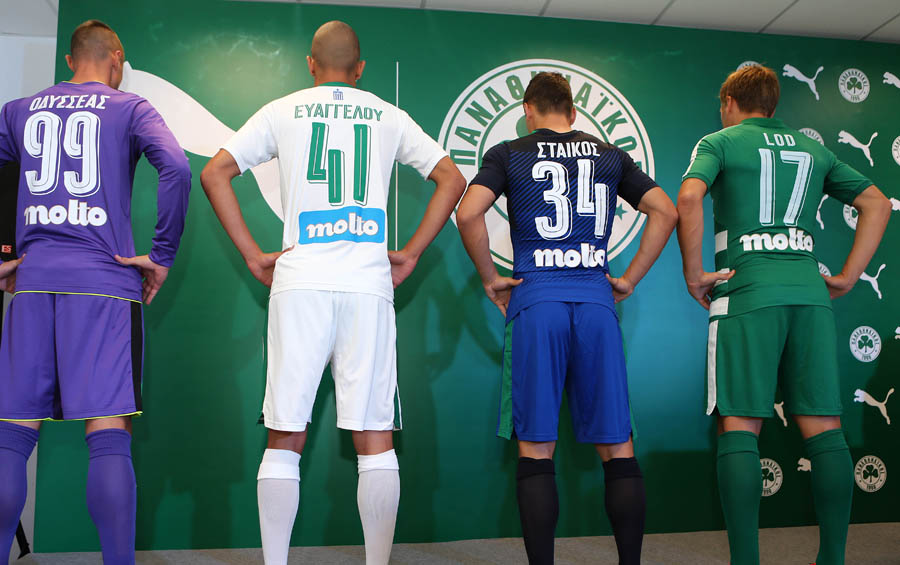 The presentation of new jerseys was done by Robin Lod, Paschalis Staikos, Stephanos Evangelou and Odysseas Vlachodimos, symbolizing the confidence Panathinaikos has in the new generation that is looking steadily ahead.
During the event a TV spot, created for the new shirts of the 2016-2017 season, was presented. This spot was filmed at the historic ground of the team, Leoforos Stadium, willing to bridge symbolically the tradition, the dynamism and the passion Panathinaikos has for this new era. It highlights the image of the fighting athlete and the united team that will face all the challenges this season is going to bring both in Greece and in Europe.
The new shirt will be launched together with the beginning of the official commitments of Panathinaikos, on July 28th, against AIK Stockholm for the third qualifying round of the Europa League competitions.
The new shirts will be available for the fans that can purchase them from Tuesday July 26th at the official stores of Panathinaikos and at www.greenteam.gr